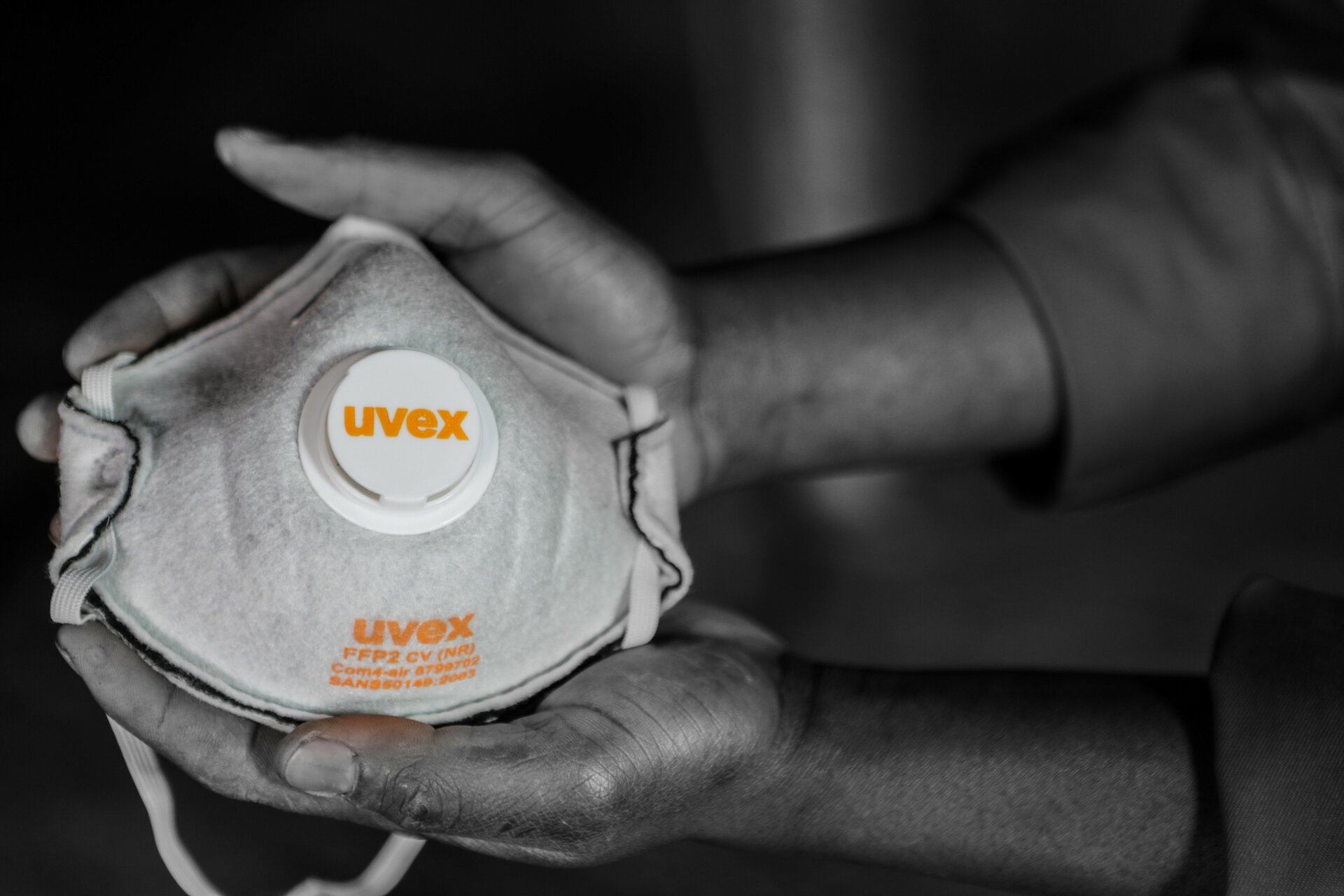 uvex com4-air FFP Disposable Mask
The uvex com4-air range of respiratory protection includes highly effective face masks in protective classes FFP2 and FFP3. Our range of masks has been designed to provide its wearer with both comfort and respiratory safety. When you make use of the com4-air range you are able to protect yourself against solid and liquid aerosols, dust, mist and smoke, even during extended periods of use.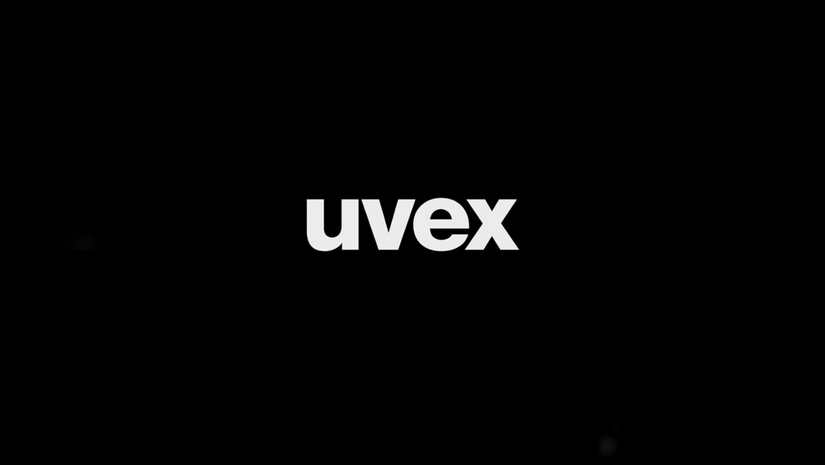 uvex com4-air FFP2 Mask
Providing workers in a variety of industries with respiratory protection. Industries include mining, pharmaceutical, construction, and more.
FFP2 Mask Meaning and Testing
FFP is an abbreviation for "Filtering Face Piece" with the number "2" indicating the level of protection you will receive from the mask. FFP2 masks filter 94% of particles. uvex guarantees that all of our masks have gone through vigorous testing to ensure their safety and level of respiratory protection. Tested on a wide range of requirements concerning particle-filtering, our masks have been approved in accordance with EN149:2001. Some of the aspects tested for include inhalation and exhalation resistance, filtering efficiency, and leakage.
FFP2 Mask Uses
Whether in a domestic or industrial setting, if you are working in hazardous respiratory conditions, you should wear a protective mask. Applicable in woodworking, construction, agriculture, welding, metalwork, medical, and waste handling our FFP2 masks protect against a variety of particles including fine sawdust and paint particles, cement and other construction dust, metal dust, and fungi.
Making Use of a Dust Mask Rated FFP2 With a Valve
A dust mask or mask labelled as FFP2 that has been fitted with a valve provides ease of breathing and reduces the amount of resistance. This is due to the valve opening as the wearer exhales. This ensures that the moisture from the exhaled breath dissipates quickly and effectively, making the mask more comfortable to wear for extended periods of time. The valve does close after exhaling to ensure that the wearer is protected against harmful particles once they inhale.
uvex com4-air FFP3 Mask
Ensuring that those who are exposed to fine hazardous particles are provided with the highest level of respiratory protection possible.
The Meaning of an FFP3 Mask
FFP3 masks offer the highest level of protection that one can experience from a mask. They filter at least 99% of particles. These masks are able to filter 30 times the occupational limit. The occupational limit can be described as being the average concentration of substances at which it is still "safe" to inhale the breathable air. As per uvex's strenuous testing regulations, our FFP3 masks have gone through rigorous testing and have been approved according to EN149:2001 standards.
Uses for an FFP3 Face Mask
There are a variety of uses for the uvex FFP3 masks; however, they are particularly useful against fumes such as metal and aluminium oxide as well as against bacteria, viruses, and spores. This makes them applicable in both metalworking and medical/health industries.
---
FFP2 Dust Masks: A Brief Breakdown
Whether you are a DIY lover that enjoys performing tasks at home that could expose you to high levels of dust, or work in a factory or mine where the air is contaminated with a high level of particles, it is advisable to keep yourself safe and wear an FFP2 dust mask. Exposing one's respiratory system to unfiltered air in hazardous conditions can have negative long-term health effects. In this article, we will explain what the meaning of an FFP2 mask is, its intended use, as well as
the product lifespan.
FFP Mask Meaning, Uses, and Levels of Protection
FFP masks are a critical piece of PPE that can protect their wearer from negative health effects caused by continuously inhaling contaminated air into one's respiratory system. Whether you are consistently being exposed to contaminated air or infrequently enter hazardous environments, safety precautions should always be taken.
In this article, we will discuss and explore an FFP mask's meaning, uses, and the levels of protection available.
What is the difference between an FFP2 and an FFP3 mask?
Both FFP2 and FFP3 masks adhere to the same standard; however, FFP3 masks provide a higher level of protection. While FFP2 masks provide an impressive 94% protection, FFP3 masks provide at least 99% protection against harmful particles.
Are there reusable FFP2 masks?
If a mask bears an "R" mark, it is able to be reused and if the mask is marked "NR" it may not be reused and should only be worn for 8 hours before disposing of it. Therefore, it would be best practice to look for the relevant mark and follow that guideline.
Are P3 and FFP3 the same?
P3 and FFP3 masks are similar in the amount of protection they provide; however, what they protect against will slightly differ. It is best to speak to your mask manufacturer directly or download a brochure to ensure that they will provide you with the protection you require.
How do respirators work and when do I need them?
How do I choose the right respirator?
Follow the first link for advice on choosing the correct respirator for your needs. The second link provides rough recommendations on areas of application for particular activities.
How can an optimal sealed fit be ensured?
There are a number of subjective and objective means of testing a respirator's fit. This information may help you to find the type of mask which best fits your particular face shape. Detailed information on the testing procedures is available by following the link below: Proper Use/ Fit-test
When should I replace a disposable respirator?
Disposable respirators are generally intended to be worn for a single shift, which is assumed to be eight hours of work. In certain areas of application, for example when working with toxic hazardous materials, the masks are only usable once. This means that a mask must be disposed of every time it is removed and replaced with a new one. This applies to working activities in the presence of carcinogenic substances, for example.
Furthermore, disposable respirators should only be worn for one day and by one individual for reasons of hygiene. Only masks marked with an "R" can be hygienically cleaned with uvex clear cleaning spray and therefore subsequently worn for a second shift.
When a respirator mask is being used, it gradually becomes loaded with particles. This causes the filter material to become clogged up over time, increasing the mask's breathing resistance. In environments with a particularly high particle concentration, it may even be necessary to use several masks in one day as the mask may clog up too quickly and cause breathing problems.
Extensive information regarding wearing periods can be found in the respective national regulations. In Germany, the relevant regulation is BGR 190 on the use of respirator devices. A brief overview of this can be found by following the link below: Standards/regulation
Why does the mask have an expiry date?
The filter effect of disposable masks is determined by the filter material's electrostatic charge. The shelf life of uvex disposable respirators is limited to 36 months because this electrostatic charge declines over time. The expiration date is clearly marked on each box. More information about the filter effect and function can be found here: Function
What protection classes are there and what do these mean?
Three protection classes of disposable respirators are defined under EN 149: FFP1, FFP2 and FFP3.
Further information on the protection classes can be found here: Protection classes
Some masks are marked with a "D". What does this certification signify?
The "D" certification for disposable respirators signals that it fulfils an additional requirement under the EN 149 standard, the dolomite dust test. This tests whether the mask's breathing resistance remains low after being loaded with dolomite dust. For this reason, the "D" certification is proof of the filter material quality and confirms that the mask can be worn in environments with even extremely high dust exposure over a long period of time. Details of the EN 149 standard can be found here: Standards/regulation
What does an "R" or "NR" certification mean?
In accordance with the EN 149 standard, an "R" certification for a disposable respirator stands for "reusable" and "NR" for "non-reusable." In determining whether a mask can be used for a second shift, its cleanability is tested. If it is deemed cleanable, it is designated "R", if not, it is marked "NR". For more information on wearing periods, please see question 4. Details of the DIN EN 149 standard can be found here: Standards/regulation
Why do some masks have additional filter containers with inhalation valves?
The additional filter containers significantly reduce the breathing resistance and work in conjunction with the inhalation valves to effectively regulate the temperature inside the mask.
Additional details can be found here: Technologies
What regulations do I need to consider when wearing a respirator?
When wearing a respirator, operating instructions and any corresponding national guidelines and regulations must be observed. In Germany, for example, BGR 190 is the relevant standard for the use of respiratory protection.
A brief overview of this can be found here: Standards/regulation
Which uvex safety goggles can be worn with a respirator?
The combination of respirator and uvex safety goggle models is determined by the wearer's face shape. To make it easier for you to find the right match, we have carried out extensive wearability tests and summarised the results here: Eyewear-respiratory-combinations
Why does the mask require a sealing lip and adjustable nose clip?
The sealing lip and adjustable nose clip establish a close fit on the face, especially around the nose area. In addition to respirators with a sealed lip and nose clip, uvex also offers completely metal-free masks. These masks feature innovative 3D nose technology: a special ergonomic nose shape ensures that the mask still fits securely on the face even without a sealing lip – the advantage is that wearers do not need to worry about adjusting the nose clip.
What do MAK, OEL and TRK mean?
The occupation exposure limit (OEL) is the acceptable time-weighted average concentration of a hazardous substance in workplace air at which no acute or chronic harm is caused to employees' health. In determining this limit, it is assumed that an employee would be exposed for eight hours per day, five days per week for the duration of their working life.
It is measured in mg/m³ and ml/m³ (ppm).
The OEL was introduced in Germany on 1 January 2005, alongside the revision of the Ordinance on Hazardous Substances (GefStoffV). It replaced the previous maximum workplace concentration (MAK) and technical recommended values (TRK). The previous MAK and/or TRK values can still be used to calculate the hazard level of a workplace until the OEL is integrated into all technical regulations.
The Federal Ministry of Labour and Social Affairs defines the thresholds for Germany. The Committee on Hazardous Substances advises the ministry with regard to this. They calculate the OEL based on published criteria.[1] The Committee tends to follow the recommendations of the German Research Foundation's MAK committee and the indicative EU's OEL values.[2] The OEL values are published in the German Technical Rules for Hazardous Substances 900
(TRGS 900 – OELs). They were initially announced in the Federal Labour Gazette (Bundesarbeitsblatt, BArbBl), but since this publication ended, they are made public in the Joint Ministerial Gazette (Gemeinsamen Ministerialblatt, GMBl).
The air in a working environment will often contain multiple hazardous substances. However, compliance with OELs only protects employees if there is only one hazardous substance in the air. If there is a mixture of substances, the hazard to health is evaluated according to TRGS 402 – Identification and assessment of the risks from activities involving hazardous substances: inhalation exposure (TRGS 403 was repealed in July 2008).
If there is no OEL calculated according to TRGS 900 for a particular hazardous substance, TRGS 402 dictates that the exposure can be evaluated using the MAK value as calculated by the German Research Foundation, the indicative OEL value published by the EU, foreign exposure limits or the derived no-effect level (DNEL) set out in REACH (registration, evaluation, authorisation and restriction of chemicals) legislation.[3] In bulletin 409 on hazardous materials (BekGS 409), it was stated that if the DNEL value for a substance is stricter than the currently valid OEL value as determined by the Committee on Hazardous Substances (AGS), this must be re-tested.[4]
Furthermore, the EU's Scientific Committee on Occupational Exposure Limits (SCOEL)[5] and personal accident insurers make their own recommendations on OELs.
What is a CAS registry number?
The CAS registry number is an international standard identification system for chemical substances. Each chemical substance in the CAS database (which also contains bio sequences, alloys and polymers) has its own unique CAS registry number.